Bonvillian Appliance:
40+ Years of Service Excellence
Bonvillian Appliance was founded in New Orleans in 1976 by Clifton Bonvillian, Jr. and his father, Clifton Bonvillian, starting life as BonSon Inc. (short for Bonvillian and Son). At the time, the company focused on HVAC service and installation, as well as commercial refrigeration sales and service.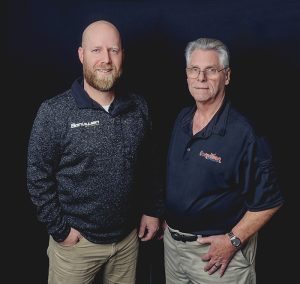 Clif's son, Dagan, started working for the company in 1994 as a summer and weekend helper while he was in high school. In 2000, after completing an active duty tour with the U.S. Marines, Dagan joined the company full-time. And in the early 2000s, the company name was changed to reflect the family's full name.
Today, Bonvillian Appliance remains a family-owned and operated appliance installation and repair company, now serving New Orleans, Baton Rouge, and the surrounding Gulf Coast communities. Dagan Bonvillian continues to run the company, which now boasts two offices, 10 experienced technicians, and a staff of wonderful, dedicated, customer service representatives.
Our company has for many years exclusively serviced high-end appliances like Sub-Zero, Wolf, and Cove; Miele; ASKO; U-Line, Manitowoc, and Scotsman. Clif Bonvillian, Jr. knew that, by concentrating on these few brands, his service technicians would develop unparalleled expertise with which to care for these leading appliances. Thanks to this approach, Bonvillian Appliance was hand-selected by Sub-Zero, Wolf, and Cove to be their Premier Partner and Factory Certified Service for southern Louisiana and the surrounding areas.
Our mission is to be No. 1 in appliance service and support, and that demands that we constantly educate our technicians, innovate our business, and improve our services to ensure the highest customer satisfaction. This drive for excellence led to such a high demand for our work beyond New Orleans that we expended full-service operations to Baton Rouge in 2019, bringing our trusted service to more high-end customers along the Gulf Coast. As we continue to grow, we will remain true to the standard of excellence set by Clif Bonvillian junior and senior in 1976.
For installation, maintenance, and service of your one-of-a-kind appliances, call us or schedule online.